Tuyen Quang province in the northern mountains will host a week of local culture and tourism promotion in the middle of this month to coincide with the 1945 August Revolution and celebrate the Vietnamese government's recognition of Tan Trao hamlet as a national historical, cultural and ecotourism site.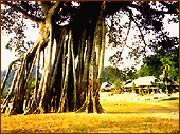 Tan Trao banyan tree
The formal activities for Tuyen Quang Culture and Tourism Week 2006 will include inaugurating Tan Lap Cultural Tourism Village in Tan Trao and Minh Thanh Historical Culture and Ecotourism Site.
There will also be a travel and fashion fair and a display of ethnic costume.

Tan Trao lies in a small valley between the mountains and jungle in Son Duong district and is roughly 200km from Hanoi.

The main places of interest are Tan Trao Communal House, Hong Thai Communal House, a banyan tree and a hut where Ho Chi Minh lived from June to August 1945.

Tan Trao was used as a resistance base before August 1945 and was the provisional capital of the patriotic forces headed by Ho Chi Minh. The Communist Party of Vietnam held several important meetings there, especially in August 1945.