Data from Vietnam National Administration of Tourism shows a 6.2 percent year-on-year fall in the number of foreign visitors to Vietnam in the first quarter of the year.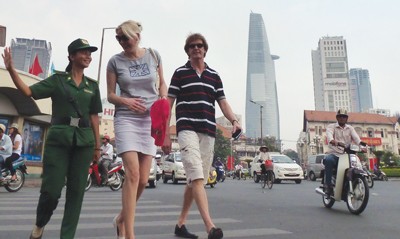 A tourist security helps foreign visitors across the street. (Photo: SGGP)
Air travellers showed the sharpest drop of 7.2 percent; land travellers dropped by 0.3 percent; and sea travellers by 6.4 percent.
Compared to the same period last year, visitors from most major tourism markets posted only a slight increase or dropped in the first quarter of the year. For instance, China rose 0.7 percent; South Korea surged 8.7 percent; Japan declined 1.8 percent; the US fell 5.3 percent; and Taiwan (China) plunged 18.5 percent.
Visitors to Vietnam for tourism accounted for 61.3 percent of total number of visitors, a fall of 4.7 percent while visitors for business purposes accounted for 16.9 percent, dropping 4.8 percent year-on-year.