The project for the biggest entertainment and resort complex, Ho Tram, in the south eastern coastal province of Ba Ria – Vung Tau, has found a new partner from the US, MGM MIRAGE, the Ho Tram Project Company announced late January. Thanks to the collaboration, the project will be extended.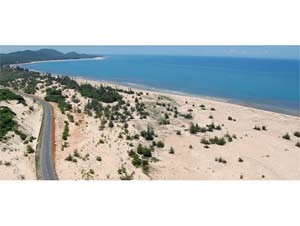 The beach where the entertainment complex will soon be established
David Subotic, General Director of Ho Tram Project Company (HTP) and CEO of Asian Coast Development, accompanied top executives from MGM MIRAGE and Steelman Partners on a tour of Ho Tram's construction site.   
During the tour, the MGM MIRAGE development team offered recommendations to enhance the operational capabilities of the 1,100 room integrated resort, while presenting plans for a number of upgraded facilities, including a luxury villa complex, which will serve as VIP accommodation. The hotel will now been accommodated in two towers, each of which will include magnificent luxury suites.  
MGM Grand Ho Tram will be the first component of the Ho Tram Strip, planned to be the largest tourism complex in Vietnam. The Ho Tram Strip is expected to be a catalyst for the continued growth of the Vietnamese tourist industry and will provide thousands of local jobs in the construction and hospitality fields over the next several years. 
MGM Grand Ho Tram itself will feature 1,100 rooms, a world-class entertainment facility, luxury retail shops, gourmet restaurants, high-tech meeting spaces, live entertainment, high-energy nightlife, spa services, an exclusive VIP area and a variety of beach-front recreation activities.  
The 169-hectare Ho Tram Strip is being designed by Steelman Partners, a premier Las Vegas architectural firm. The complex will be integrated into the area's lush natural surroundings and will be themed around environmental preservation and conservation. When complete, the Ho Tram Strip will include five integrated resorts, a world-class conference center and an array of recreational activities. 
When asked about the progress of the project, Paul Steelman, CEO of Steelman Partners, said confidently, "My firm has worked on more than 80 projects all around the world, and this has undoubtedly been one of the most enjoyable and most challenging assignments that we have ever undertaken. We are confident that with the involvement of MGM MIRAGE, we will create a stunning world-class facility that will be recognized as an iconic centerpiece of the Vietnamese tourist industry." 
Phase I of the development, scheduled to open in 2011, will be Vietnam's first integrated resort, featuring the five star MGM Grand hotel and a championship golf course designed by Greg Norman. The project is carried out by Ho Tram Project Company, a subsidiary of Asian Coast Development Canada Ltd., MGM MIRAGE and Steelman Partners