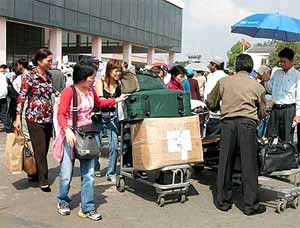 Returning overseas Vietnamese are welcomed at Tan San Nhat International Airport.(Photo:TK)
The number of overseas Vietnamese (Viet Kieu)returning home has risen strongly since the start of December, according to a report out of Tan Son Nhat International Airport in Ho Chi Minh City.
In November alone, an astonishing 515,400 Viet Kieu, as expatriate Vietnamese people are known, came back to the motherland for a visit, an increase of 111% year-on-year.
What's surprising this year is how many overseas Vietnamese are returning earlier than usual and not waiting until the Tet (Lunar New Year) holidays.
Foreign tourist numbers are also up sharply.
The Vietnam National Administration of Tourism reports that more than 108,400 Thai citizens came to Viet Nam last month, an increase of 138% on 12 months ago.
The number traveling from Singapore and Malaysia also surged, by 124.3% and 123.4% respectively.
Bucking the overall trend, the number of tourists from France and Germany remained somewhat the same compared to November 2005.