The 34th anniversary of Phuoc Long Town winning its freedom from the U.S.-controlled Vietnamese government will be celebrated with a three-day festival in January in the province of Binh Phuoc.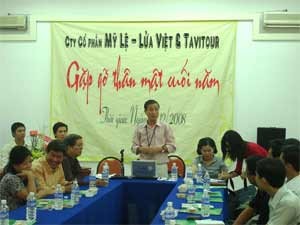 A "Phuoc Long Victory 2009" festival organizer briefing the media on December 18 (Photo: Truong Son)
The "Phuoc Long Victory 2009" festival, from January 2, will include a traditional food and beverage fair and traditional musical concert, "Voices of Phuoc Long". The festival will also feature competitions such as "Climbing up the Ba Ra Mountain", a tandem bike race, a bamboo raft race, a rock-climbing race and a tea-leaf picking race.
Winners of the competitions can receive up to VND4 million (US$236) in prize money. Many certificates will also be awarded.
The festival, to celebrate the town's freedom won on January 6, 1975, is being organized by Binh Phuoc Province People's Committee, Binh Phuoc Province Department of Culture, Sports and Tourism and HCMC Tourism Association. The festival is also supported by the Tavitour Company, Binh Phuoc Province Businesspeople's Association and Lua Viet Travel Company.
People wishing to enter the festival competitions can register at three venues in Ho Chi Minh City: the office of HCMC Travel Association, the office of The Thao Ngay Nay Newspaper or the office of Lua Viet Travel Company in Ho Chi Minh City.