The Director of the Dong Song Xanh( Greenline) Ltd. Co. Le Huy Thao said the company will launch the first Con Dao hydrofoil trip at the end of March.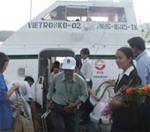 The first arrival of passengers on the hydrofoil to Con Dao
There will be two outward and return trips per week. The fares are at VND350, 000 a head for the trip departing from Vung Tau and VND420, 000 from Ho Chi Minh City.
The hydrofoil is 45m in length and 14m in width. It has 155 air-conditioned seats. It can cover 350 nautical miles a return trip in just four hour and a half.

VND12 billion was spent on the hydrofoil.