After a three-year break, Star Cruises Limited's five-star liner, the SuperStar Libra, yesterday brought more than 1,700 premium tourists into Ha Long Bay from Hong Kong.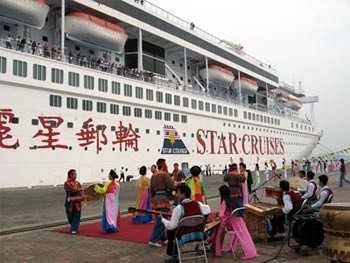 The Super Star Libra
All local off-shore and ancillary services, like visiting the Bai Chay touro zone or shopping at Hon Gai Market, were planned and provided by Viet Nam's premiere tour facilitator, Saigon Tourist.

The voyage marks the start of weekly cruises for 1,000-2,000 travelers a trip between Hong Kong and Ha Long, said Saigon Tourist cruise department head Le Quang Thang.

The Libra's displacement is some 42,300 tons, its passenger capacity 1,800 with a crew of 600.

Star Cruises is also to offer 39 other voyages on the SuperStar Virgo and SuperStar Aquarius, with the maximum capacities of 1,000 and 2,200 passengers each, from December 2007 to August 2008.