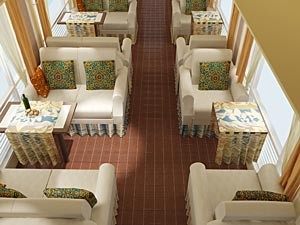 Five-star train's interior
A Five-Star tourist train between Ho Chi Minh City and Nha Trang will be brought into operation in December 2006, in a bid to offer international rail travelers with the best service.
The Saigon Railway Transport Company and the Truong Sinh Advertising Company recently signed a contract to run the "5 Star Express" train to transport tourists on Saigon – Nha Trang route.
The train has six carriages with the standards of two-star to five-star, two restaurant cars and one for medical services. Each passenger carriage has an LCD screen, Internet services, bar, and an 'intelligent' toilet.
"We aimed at creating for tourists an atmosphere of entertainment and relaxation right on the train. Thus, many cultural programs and activities such as traditional cuisine presentations, dancing parties, wine festivals will be organized," said Mrs. Phan Thuy Huong, Chairwoman of the "Five-star Express" Board of Directors.
According to Managing Director Nguyen Hai Ninh, the train will pilot run this November and will be officially operational on December 1, 2006.
40% of the total number of tickets in 2006 was booked by various tourism agencies, said Mr. Ninh, showing a bright future for the quality rail transport service.
Investment capital of the train reportedly reached VND16 billion (about US$1million).