Ho Chi Minh has some certain advantages to develop tourism services, including its youthful strength, dynamic economic performance and high integration capability. Compared with other cities in Viet Nam, the city owns unique features which usually leave a deep impression on visitors. It is a modern city with many special characteristics, which the city's tourism sector must take into consideration.

Landscapes in Viet Nam
However, we should notice that Ho Chi Minh City alone cannot attract tourists to Viet Nam. Thus, the marketing campaign for the city's tourism industry will produce the desired effect only if it is expanded to the national scale.
On the other hand, most prestigious local and foreign tourism companies could be our powerful internal forces since they are located in Ho Chi Minh City and they will, for their own sakes, participate in various common programs for the development of tourism industry if they are well supported by the city's Tourism Department.
Below are some of my suggestions for the development of the city's tourism industry.
1. Improve Viet Nam's participation in international fairs.
Viet Nam's stall in an international fair cannot represent only a single tourism area or a group of the country's travel agencies, but the whole industry of Viet Nam.
In order to achieve a breakthrough and create a new image of the Viet Nam's tourism in these fairs, the country must promote a substantial investment as well as seek the help from a professional and prestigious tourism consultancy agency. Thus, I believe that it is a task for the Viet Nam National Administration for Tourism, not merely Ho Chi Minh City's Tourism Department.
2. Organize more promotion activities for tourism.
Promotion via events held in Viet Nam/Ho Chi Minh City: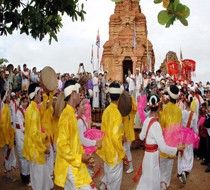 Festivals
Each event or festival draws the interest of international visitors at various levels. Thus, an intensive study must be designed to find out the appropriate direction for development. Also, the industry sector can consult experts, closely cooperate with other relevant units and invest enough time to prepare an event. The fact is that most events held in Viet Nam have been organized in a rush, which left the participant agencies in confusion about how to introduce their tours.
When hosting seminars, conferences or tourism fairs, the city must encourage the participation of appropriate foreign tourist agencies as well as use various channels to promote the events, among which are diplomatic services, overseas news agencies, domestic tourism enterprises, and relevant departments in major tourism markets.
More travel information should be given to tourists in Ho Chi Minh City and in other areas of Viet Nam. Currently, the city lacks necessary publications for advertising its tourism programs. Besides, it is a must for the city's Tourism Department to focus on the improvement and upgrade of its website, and establish an information center for tourists.
Promotion via activities in overseas and major markets
This is one of the dispensable tasks of the Viet Nam National Administration of Tourism and some other relevant departments.
Match-making programs should be organized domestically and internationally for domestic agencies to approach and study the tourism managing systems in other countries or to learn from the experience of their overseas counterparts.
Also, the tourism sector should cooperate with various administrative departments for tourism or giant partners in major markets. More branches and representative offices should be established to hold roadshows, in which tours and related information will be directly given to foreign customers by the local staff. Besides, "Viet Nam Night" programs, in which presentations with slide-shows, Q & A section about the Viet Nam's potential tourism can be held in big cities abroad with the participation of their local agencies.
With the support of Vietnam Airlines and local tourism agencies, the city can also offer the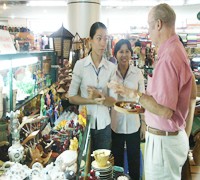 Vietnamese handicraft attracts tourists
familiarization trips, a.k.a. Fam Trips, to foreign news agencies so that they can have a look at the country's tourism industry and then introduce to their readers in their homelands.
Viet Nam can invite celebrities from the major foreign markets to visit the country, in combination with necessary public relations campaigns via newspapers or TV Ads to lure the customers in these markets. The city can cooperate with their local agencies to share the expenses for these programs.
Also, the tourism industry should improve the important role of representative tourism offices in foreign markets and request the Viet Nam National Administration for Tourism to open its branches in the promising markets.