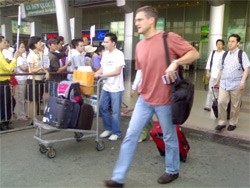 It is estimated that there will be over 4.4 million international visitors to Viet Nam this year. (Photo:KK)
More than 3.8 million international visitors came to Viet Nam in the first nine months of this year, a year-on-year increase of 17 percent, while Swedish visitors to Ho Chi Minh City increased 42.6 percent, according to the National Administration of Tourism (VNAT).
Growth in visitors from the worlds' richest nations, reported VNAT increased 20-40 percent, including Canada, up 40.2 percent, France, up 24.7 percent and the US, up 21.6. 
Meanwhile, China leads the list of countries with the most arrivals with 515,430 visitors. The second and third places respectively went to Korea, 432,073, and Japan, 375,190.
It is estimated that the number of international visitors to the country will exceed 4.4 million for the year.