Nearly four months since the launch of voting for UNESCO-listed Ha Long Bay as one of the world's seven new natural wonders by the Swiss-based NewOpenWorld, the Bay has seen a record increase in the number of tourists.
Ha Long Bay
According to the Quang Ninh province's Tourism Department, it is now extremely difficult to find a hotel room in Ha Long City. Even two- and three-star hotels are booked out. Luxury hotels were fully booked a while ago.

Offshore, the same has happened to hundreds of cruise ships anchored in the bay over the weeks.

Analysts say Ha Long Bay, which has been listed by UNESCO as one of the World Heritages, has a golden chance to promote itself and that Viet Nam is being brought to the world via a series of broadcasts about Ha Long and the aforementioned vote.

Following such a broadcast by CNN to more than 200 countries and territories, TV producers from Spain, Australia and France have been flocking to the Bay.

According to the Vietnamese Institute for Tourism Research and Development, the number of visitors to Quang Ninh has increased 14 percent annually on average over recent years. In 2000, the figure was 1.9 million but rose to 3 million in 2006. In 2007, total revenue from tourism was over VND43 billion (around US$2.68 million).

Under the overall plan to develop tourism in Ha Long Bay to 2010, the provincial People's Committee set a target of receiving 6.8 million visitors by that year, and the number is now expected to reach 10.2 million by 2020.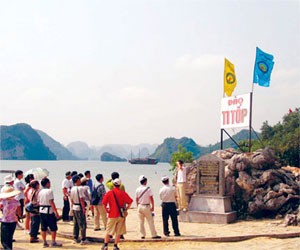 Tourists travel to an island in the middle of Ha Long Bay
However, much has to be done. An analyst said the quality of tourism products and services in Ha Long remains low. Travel and entertainment activities are said to be rather dull.

Although several amusement parks now cater to the needs of domestic visitors, foreign tourists seem unimpressed.

Besides traveling, sightseeing on boats, kayaking, exploring caves and limestone mountains, and swimming, visitors can play sports, dive and visit islands and fishing villages, go to archaeological sites or study the culture of Ha Long Bay or visit mountainous islands. Just having some late night fun doesn't seem to enter the picture.
The most important thing is to understand visitors' tastes in order to have suitable services for them, one official said. Many foreign visitors said what they care most about Ha Long is its natural landscape, not leisure centers while others said they are mostly interested in local culture.