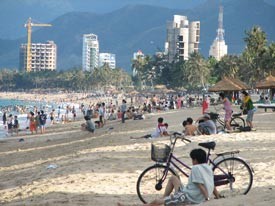 Nha Trang City. (Photo:TC)
Travelers who find themselves in Nha Trang on the central coast during the Reunification Day holiday can take part in a fishing competition to be held for the first time on the island of Hon Tre on Monday April 30.
Ten teams of six from fishing clubs in Ha Noi, Ho Chi Minh City and elsewhere have already entered the contest, which is one of many planned activities leading up to the coastal town's Festival of the Sea from June 9 to 15.

To enter or simply to learn more, contact the office of the Nha Trang Party Committee at 22A Hung Vuong Street, tel: 058.523075 or 0982.989439 at least five days before the competition.