Tourists will soon be able to traipse around a thousand-year-old operational gold mine in Quang Nam province and get a close-up look at the workings of a modernized mine.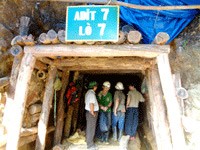 An adit to a gold-mining pit in Bong Mieu gold mine
In preparation for next year, 41 Vietnamese travel agents recently toured the Bong Mieu gold mine in Phu Ninh District. 

Quang Nam tourism director Mr. Dinh Hai told them the provincial authorities would move quickly to arrange matters so that the mine tour could start up next year.

"Visitors will be able to learn about the history of Bong Mieu, how to prospect for gold, and manual and modern methods of mining and treating the ore. They will also be able to visit Thung House (Barrel House), which was built by the French," Mr. Hai said.

Gold was first found in the area now called Bong Mieu by the Cham people, one of Viet Nam's 54 ethnic groups, more than a thousand years ago. From 1895 to 1940, the French controlled it.

Today the operator is the appropriately named Bong Mieu Gold Exploitation Company, a joint venture formed in 1991 by Olympus Pacific Minerals of Canada, the Quang Nam Mineral Technology Company and the Viet Nam Mineral Development Company.