Push Vietnam as a safe destination at a time when tourists are staying away during economic woes, a tourist industry insider said at a meeting in Hanoi on December 10.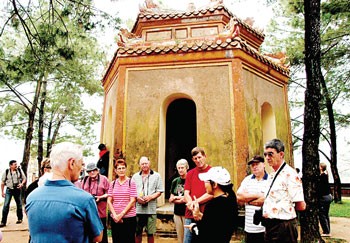 Foreign tourists visit a historic site in Vietnam
A seminar on attracting international tourists during the recent financial crisis was held to discuss solutions. Relevant departments, travel companies and airlines attended the meeting.
The hopeful number of more than 2.2 million international visitors to Vietnam in the first months of this year with16.6 percent growth rate was opposite with the discouraging figure of over 1.5 millions tourists from June to November.
The number of travelers from major markets, including Japan, Korea, Taiwan and US, accounting for 40 percent of tourists, has decreased remarkably.
The number of tourists from Canada, Netherlands, Denmark, Belgium, Spain and Italy fell 3.2 percent.
According to experts the financial crisis is leading to increases in the prices of transport, restaurants and hotels. Many international tourists have canceled tours to Vietnam, said some travel firms.
Although several countries in the region are currently politically unstable, Vietnam is emerging as a beautiful, safe, friendly destination and an attractive place with economic potential for foreign travelers and investors. The current political climate around the region is an opportunity to draw visitors to Vietnam, said Mr. Hoang Tuan Anh, Minister of Culture, Information and Tourism.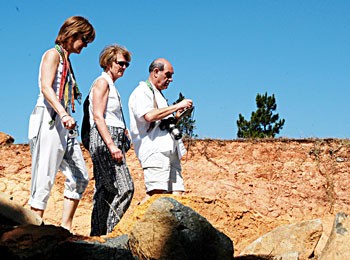 International tourists in Vietnam
The deputy Director of the HCMC Department of Culture, Information and Tourism, La Quoc Khanh, said the tourism industry should not miss the chance to launch projects quickly, because such opportunities come only once.
The head of Vietnam National Administration of Tourism (VNAT), Tran Chien Thang, said that the relevant departments, travel services such as hotels, restaurants, airlines and tourist companies should join hands to promote tourism and give special treatment to international visitors.
The deputy director-general of national flag carrier Vietnam Airlines (VNA), Trinh Hong Quang, said the airline will maintain the number of flights to potential markets, including Russia and Australia. VNA is planning to promote Vietnam tourism in Japan and France, and organize cultural activities in the honeypots of Ha Long Bay and Hoi An at a cost of VND100bn ($5.8m).