Ha Long Bay has risen from second to first in a global vote of seven new wonders of the world, the Managing board of Ha Long Bay announced May 25.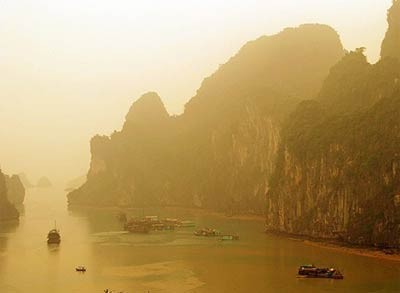 Ha Long Bay at dusk (Photo: Le Van Khoa)
Ha Long Bay is famous for its thousands of limestone features and isles, with several islands being hollow, as well as having enormous caves and numerous lakes. The beauty of the bay is heightened by local fisherman, who live on floating villages. 
Following Ha Long Bay in the Top Three of Group G –Seascapes - are the unbroken 125 kilometers of Cox's Bazaar Beach in Bangladesh and the Great Barrier Reef in Australia/Papua New Guinea. 
The voting for seven new world wonders of nature takes place on:
www.new7wonders.com
, launched by NewOpenWorld.  
The competition has entered the second phase, where 21 sites with the most votes will be selected. The results of the voting will be announced in 2011.
Related articles:

RoK supports Ha Long Bay as new world wonder
Brochures Promoting a Vote for Ha Long Bay to Be Printed
Ha Long Bay Makes Top Three of New 7 Wonders of Nature Nominees