Ha Noi plans to finish its pilot project creating two specialized trading streets in two or three years, which will restore and develop traditional trade towns on Lan Ong street and Hang Gai Street, specializing in herbal medicine and silk respectively.
Specific-trade on Lan Ong and Hang Gai streets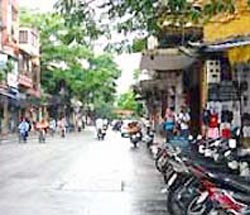 Hang Gai street
Based on the idea of restoring trade villages to develop business, the Economic Research and Development Institute of the National Economics University has cooperated with the People's Committee of Hoan Kiem District to develop Lan Ong street as a street specializing in trading herbal medicines while hoping to make silk the specialty of Hang Gai street.

As many as 74 enterprises have shops in Lan Ong street and over 90% of them already operate in herbal medicine services such as customer diagnosis, as well as the prescription and sale of remedies.

There are 120 business units in Hang Gai Street, including 91 enterprises and households trading in silk items or goods and services in association with silk products.

The city plans to create a particular logo for each trade street and each shop, and although shops have their own architecture, a common logo for the whole street, rates and key color will be created.

The two streets will be featured in a common price list. Goods will be sold at a fix price and must have their origin displayed. Shops will not occupy the pavement and particular information on the shops together with the logo of the street will be printed on product wrappings.

Enterprises' agreement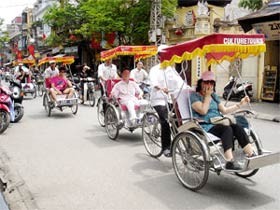 The restoration of trade streets will also involve tourist promotion. (Photo: V.H)
So far, only two among 74 enterprises on Lan Ong have not agreed with the project.

Over 74% of the enterprises thought the Government should support enterprises to rebuild the facade of shops and over 77% said the Government should help to promote trademark of the herbal medicine street.

Not many enterprises have agreed with the Hang Gai silk-street project. Fifty four percent of the businesses have insisted that they be allowed to sell products other than silk.
But the People's Committee still persists.
At the meeting on July 27, Chairman of the People's Committee of Hoan Kiem District Hoang Cong Khoi said that after silk street is set up, over 70% of the trading units should be ensured to deal in silk products and the rest will do business in silk-related goods and services.
He emphasized that it should be ensured that above 90% of Lan Ong enterprises will trade specially in herbal medicines and the remaining will do business in products and services related to herbal medicines after the street is formed.

The restoration hopes not only to boost sales but general tourism as well