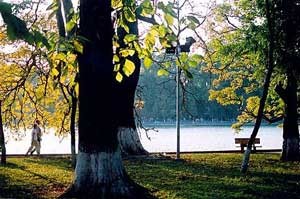 Sword Lake (Ho Guom) in Ha Noi's center
Readers of the U.S Travel and Leisure magazine have voted Ha Noi as the sixth city among the 10 most attractive cities in Asia. Last year Ha Noi was ranked fifth in the list.
The two cities of Bangkok and Chiang Mai (Thailand) topped the list of Asian top 10 cities. Five cities that were listed for the first time include Kathmandu (Nepal), Udaipur and Jaipur (India), Beijing (China) and Luang Prabang (Laos).

This is the 11th annual vote by the Travel and Leisure magazine based on readers' opinions in order to vote introduce 500 best destinations in the world. Scenery, culture and art, food and drink, people, shopping and some other values are criteria for the vote.

In addition, for the first time, the Ana Mandara Resort & Six Senses Spa in Nha Trang was listed in the top 100 of the best hotels in the world by the magazine, gaining the 65th position.
Florence, Rome and Bangkok were voted as the most attractive cities in the world in 2006.
Realted Link: