According to Decree No.277 recently approved by the Hanoi People's Committee, the operational time allowed for street vendors operating on the pavement at night has been extended one more hour at the end of this year, from 7pm to midnight and from 5am to 8am in the morning as usual.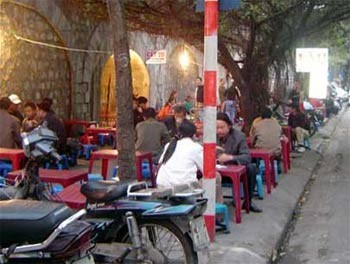 A food store on the Phung Hung street's pavement in Ha Noi
Many owners of food stores on the pavement around Truc Bach Lake and Phung Hung Street are happy with the news. The owner of Vuong Toan hotpot restaurant at Phung Hung street said that the new regulation is suitable for those who usually go eating at night. They would feel more comfortable and not worried about the time limit like before.

According to the regulation, families who want to use the pavement for weddings or funerals have to ask the local authority for permission. Local People's Committees have to check and confirm the right to use the pavement temporarily. It is not allowed to use the pavement more than 48 hours and users must spare at least one meter for pedestrians.