The millions of tourists who visit Ha Noi every year will soon be able to look up information of interest at 70 booths equipped with touch-screen computers.
Providing information in Vietnamese and English and updated daily, the computers will be located in public places like hotel lobbies, bus and railway stations, the airport and historical buildings.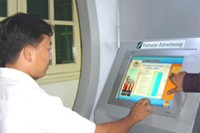 By touching the keys appeared on the screen, visitors will know about the travel information in Viet Nam
The city government says care must be taken in choosing the locations so as not to mar the beauty of the capital or impede road and pedestrian traffic.

Mr. Tran Huu Binh, deputy director of Ha Noi's Tourism Department, says a survey will be done and suggestions taken from the various government departments to determine the best locations.

Dat Viet Advertising Co. is sponsoring the project to the tune of US$10,000 up front to pay for equipment and US$3,700 over seven years for computer maintenance.

The initial 70 computers should be installed before the APEC summit later this year, after which a further 130 are planned by the end of 2007.

More than 1.2 million foreigners and four million Vietnamese citizens visit Ha Noi annually. Until now, many of them have been starved for information about Viet Nam's capital.