Le Mat village in Hanoi is famous for its traditional snake business of trapping, raising and making specialty snake dishes.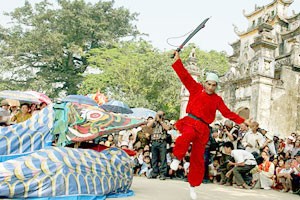 A painting depicting Hoang defeating the sea serpent
Legend has it that during the reign of King Ly Nhan Tong of Vietnam, (1072-1127 A.D.), a brave man named Hoang killed a treacherous sea serpent and rescued a princess in a fierce combat. He refused all rewards offered by the King, but instead wished to establish prosperous hamlets, west of the kingdom.
When he died, villagers in the hamlets began worshiping him as their Patron Saint and developed businesses based on snakes to honor his victory over the sea serpent.
Le Mat villagers learnt how to cook snakes into many delicacy dishes such as baked snakes dipped in pepper and salt dip-sauce, fried snakes with onion and garlic and crispy mince snake meat.
Such delicacies of Le Mat village have become so popular that hundreds of foreign and domestic visitors now patronize the village every day.
Today the village is developing its eco-tourism along with its traditional snake business in order to preserve the ancient customs of the village and also present them to the world, said Truong Ba Huan, head of the management committee of Le Mat village.
Despite rapid urbanization, Le Mat villagers preserve their traditional lifestyle by living in ancient Vietnamese style village communal houses, maintain water wells and conserve old banyan trees and their traditional snake business which gives this village its own unique charm.