A new international terminal was inaugurated Tuesday at Tan Son Nhat Airport in Ho Chi Minh City. It is scheduled to be fully completed within three years.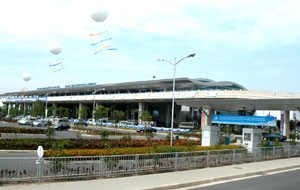 The façade of the new international terminal at HCMC's Tan Son Nhat International Airport on the opening day December 18
The US$219-million terminal is to be capable of accommodating some 10 million passengers a year. Investment came from Official Development Assistance (ODA) from Japan and the Southern Airports Authority's corresponding capital.

Covering an area of 92,920 square meters with three main floors, the terminal is expected to be the most modern of its kind in Viet Nam.

After three months of trial operations, it has already handled 27,000 flights of 40 local and foreign airlines, more than two million passengers and 34,000 tons of cargo.

The terminal construction is designed and supervised by Japanese Airport Consultant Inc. (JAC) with the Japanese contractor KTOM (Kajima-Taisei-Obayashi-Madea).

In related news, Vietnam Airlines has announced 318 more domestic flights over the lunar New Year (Tet) holidays.

Vietnam Airlines plans to add 246 flights between Ha Noi and Ho Chi Minh City and 72 flights between Ho Chi Minh City and Da Nang over January 24 to February 21 next solar year.

It expects to provide 3,600-5,900 seats daily between Ha Noi and HCMC and 1,200-1,700 seats between HCMC and Da Nang.