Ho Chi Minh City is home to many historical and architectural sites such as Ben Thanh Market, Notre Dame Cathedral, and Saigon Post Office but none of them display information about their history for the benefit of tourists.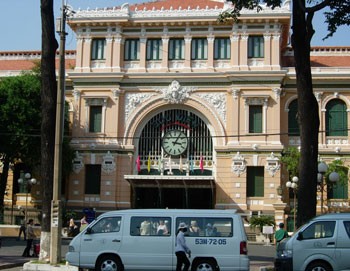 Sai Gon Post Office  (Photo:KK)
Saigon Post Office, located in the heart of the city in District 1, was built in 1863 using Asian architecture and Gothic architectural styles.

Not far from it is Notre Dame Cathedral, another architectural landmark. It was built by French engineer Baurad between 1877 and 1880 at a cost of 2,500,000 francs with material imported from Marseille, France. In 1959, with the approval of the Vatican, the cathedral was name "Basilica".

Its Neo-Romanesque architecture is dominated by two 40-meter-high bell towers. Of its six bells, the largest is an 8.7-ton behemoth that rings only on Christmas Eve.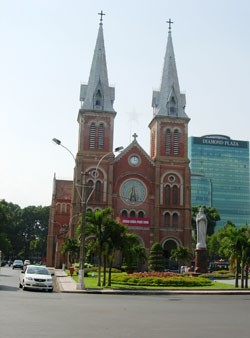 Notre Dame Cathedral (Photo:KK)
The iconic Ben Thanh Market attracts a large number of both local and foreign visitors but has no information about its origin or evolution.

David Thai, a Vietnamese-French tourist, said: "It is not difficult to learn about destinations we visit through the internet. But I think it will be better that every tourist spot has a display in English or French about its development and history."

Tour guide Thu An concurred, saying, "Visitors prefer to read information about all tourist spots in the city rather than in guide books or ask tour guides, especially tourists who travel alone."