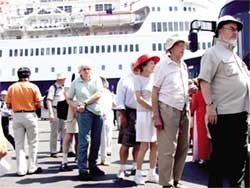 About 64,000 international tourists visited Ho Chi Minh City by sea and land in the first quarter of 2006.
In the first quarter of 2006, Ho Chi Minh City received around 630,000 international visitors, an 8% year-on-year increase, says the city's Department of Tourism.
Most of the foreign visitors to Viet Nam were from the US, Taiwan, Japan, South Korea, Australia, China, Canada, France, Singapore, and the UK.
Also in the first quarter, about 136,000 tourists flew abroad from Tan San Nhat international airport in Ho Chi Minh City, a 60% increase from the same period last year.
The total turnover of the city's tourism industry also increased by 20%, reaching over VND2,850 billion.
At the current growth pace, Ho Chi Minh City hopes to welcome about 2.3 million international visitors in 2006, says the Tourism Department.