Bung Binh Thien (Peaceful Lake of Heaven) is regarded as the biggest blue fresh water lake and a place of tranquility for visitor in the Mekong Delta.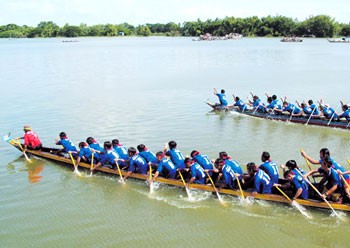 Boat race is organized on Bung Binh Thien lake every year. (Photo :Sggp)
Located in An Phu District in An Giang Province, the natural lake links three communes including Khanh Binh, Khanh An and Nhon Hoi, adjoins the Binh Di and Hau rivers and is becoming known as an eco-tourist area.
The water surface of the lake spreads out more than 800 hectares in rainy season. It narrows to 200 hectares during dry periods and never dries out completely.
Bung Binh Thien is also called the lake sea of the Mekong Delta, providing fresh water for the people in the region.
The lake is home of a variety of fish species, with an especially great quantity of Ca sat (Sat fish), which are often fried. Sat fried fish mixed with mango salad is a specialty of the southern region.
Visitors to Bung Binh Thien during flood season have the chance to enjoy many other special foods. Residents usually organize boat races on the lake every year.
The lake remains clean and pure all year round. Meanwhile, the rivers and canals surrounding it have been muddied by alluvium.
The People's Committee of An Phu District in An Giang Province is calling on investors to build up the lake area as a cultural tourist site.