Construction of yet another five-star resort in the popular tourist spot of Hoi An will begin later this year and should take about 30 months to complete.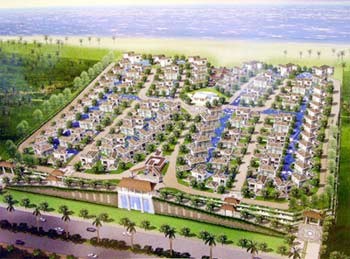 The Hoi An Royal Bay will be eopned for business in 2009.
The Hoi An Royal Bay will take up 7.3 hectares of coastal land in Dien Duong Commune, Dien Ban District in the central province of Quang Nam.
Site clearance is nearly finished for the US$16-million project  by VinaCapital Hoi An, a joint venture between VinaCapital Group's Onshine Investment Limited and Sai Thanh Investment and International Tourism.

The resort will comprise close to 100 bungalows set in spacious grounds along with restaurants, nightclubs, a swimming pool and a gymnasium.

It's taken barely three months to nearly clear the site since the project was licensed. Sai Thanh's general director, Mr. Nguyen Duc Tri, says the Quang Nam Department of Construction has already approved the master design for the resort.

If everything goes as planned, the Hoi An Royal Bay should open for business in 2009. VinaCapital Hoi An's general director, Mr. Le Minh Phuc, says the resort will be managed by Accor.

The joint venture has just donated VND1 billion to Quang Nam's Fund for the Disabled, Orphans and Poor Patients.