Thirteen tourism service providers in Hoi An have received "Guide" Awards for service excellence during 2006 .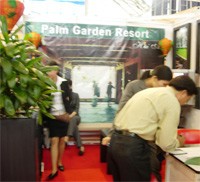 The Palm Garden Resort was introduced to customers in the international travel and tourism expo 06' in HCMC. (Photo:KK)
The award, given out by the "Guide", a British-based travel magazine, in conjunction with the Viet Nam Economic Times, is considered to be one of the most prestigious awards in the industry.
Award winners include two hotels - the  Dong Anh Beach and Hoi An Pacific; five resorts – the Golden Sand, Hoi An Riverside, Hoi An Beach, Life Resort, Palm Garden and Victoria Hoi An Beach Resort & Spa; and five cafes and restaurants including Ba Loc, Brother Café, Pho Trang, Nam Long and Pho Hoi.
The award ceremony will take place in June.