Tourist spots around the country are booked out for the six-day vacation starting this Thursday. What was an annual four-day break to celebrate the end of the Vietnam War has been extended because April 26, the anniversary of King Hung's death, is now a public holiday.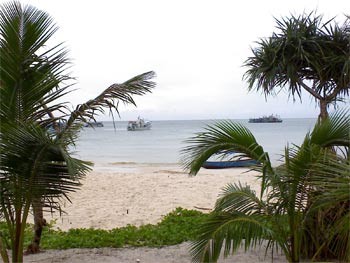 Phu Quoc beach (Photo:KK)
Tour operators have booked all the plus-2,000 guest rooms on Phu Quoc Island, and the chairman of the Phu Quoc District People's Committee is very pleased.
"This is the best time to visit our island," said Thai Thanh Luom. "The weather is ideal and the sea is smooth. Places like Ba Lua Beach, Moso Cave, Hang Pagoda and Mui Nai attract a great number of Vietnamese and foreign tourists, as do the organized fishing trips."
Package tours around Tien Giang, Vinh Long, Ben Tre and Chau Doc in the Mekong Delta are also fully booked for the holiday.
As always at this time of year, Viet Nam Airlines will add a lot of domestic flights to handle the huge increase in passengers.
For instance, there will be seven more return flights from Ha Noi to Da Nang, three from Ha Noi to Nha Trang, nine from Ho Chi Minh City to Da Nang, 14 from HCMC to Phu Quoc, five from HCMC to Nha Trang and three from HCMC to Hue.
There will also be more trains, particularly between HCMC and Nha Trang.