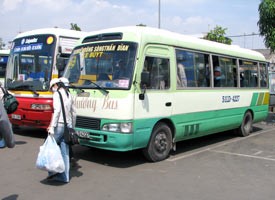 In the Western Bus Station, fees to go MeKong Delta provinces are increased by 40%. (Photo: T.C)
Several carriers have announced they will increase their average fee by 15-20% next week due to the hike of petroleum prices while passengers and travel increase over the September 2nd National Day.
Buses and coaches' passengers in Ha Noi, Ho Chi Minh City and other large towns will increase by 25% over normal days. Therefore, carriers all have to plan their trips ahead in order to meet demand.
The Ho Chi Minh City's Public Passenger Transportation Management and Operation Center has decided to increase the daily trips to 3,000 and adjust the fee. Fees to southern provinces Dong Nai, Ba Ria – Vung Tau, and center provinces Binh Thuan, Phan Thiet, Buon Me Thuot, Playku will rise by 20%.
In the Western Bus Station, fees to Mekong Delta provinces will be increased by 40% on September 1st and 2nd.
In central region, it is expected that the number of road and rail passengers will surge by 15-20% during the holiday, therefore, almost all carriers intends to raise fees by 15-20%.
This year, the cost of leasing passenger cars in large provinces and cities has increased 20-25% year on year as the demand for cars has increased by 40%. In particular, car leasing fee in Ho Chi Minh City has soared by 40%.