A food festival presenting Hue-style cuisine will be held at the Ha Noi Metropole Hotel's Spice Garden Restaurant from April 9th to the 21st.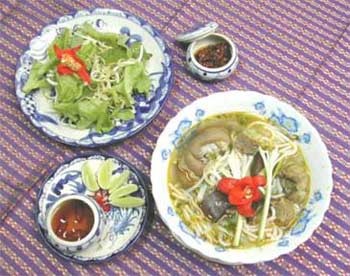 Bun bo Hue (Hue beef noodles)
Dishes available at the event will include banh beo (steamed rice cake with minced shrimp), banh khoai (stuffed omelette), bun bo Hue (Hue beef noodles), com hen (clam rice), bun bo gio heo (noodles with beef and pork), tom chua (Hue sour shrimp sauce), canh ca chua (sour fish soup) and a variety of che Hue (Hue sweet soups). Tickets for the festival are US$40 per person.
With its age-old history, the ancient capital of Hue is considered to be one of the cradles of Vietnamese cuisine. As a result of the demanding culinary requirements of the Nguyen Kings, Hue chefs developed a diverse array of local specialties that reflect the opulence, prosperity and richness of the region's culture.
Of particular importance in the preparation of dishes there are presentation and the harmonization of ingredients.

Meals served during ritual observations generally contain at least five dishes which may include such favorites as: nem chua (fermented pork roll), xoi gac (steamed sticky rice with momordica), banh tom (fried breaded shrimp burgers), thit heo luoc tom chua (boiled pork and Hue sour shrimp sauce), kho muc tron thanh tra (dried cuttlefish mixed with thanh tra fruit) and ca hap nam (steamed fish with mushroom).