Hue Monuments Conservation Center announced that Vietnamese tourists and residents will receive free admission to Hue relics from 7 a.m to 5 p.m on March 26.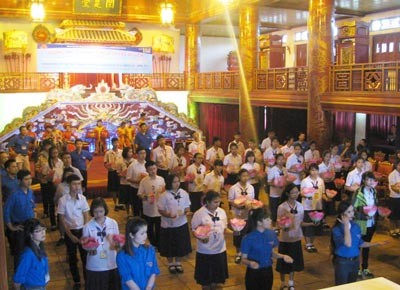 Students participate in a program on studying cultural heritages in Hue. (Photo: Sggp)
The promotion marks the 39th anniversary of the liberation of Thua Thien-Hue Province. The center is working with Nguyen Hue High School to organize a program highlighting cultural heritages for local and international students.
More than 80 local and foreign students from Singapore and Thailand participated in a visit of Hue Imperial Citadel and enjoyed Nha Nhac (Royal Court Music) at Duyet Thi Duong Theater.
A special tourism promotion Golden Tourism Week celebrating the Hue Festival 2014 will take place from March 26 to April 1.
Visitors will receive free admission and a discount of 50 percent on entrance tickets to Hue Imperial Citadel, the mausoleums of kings Khai Dinh, Minh Mang, Thieu Tri and Tu Duc, Nha Nhac musical performance, and exhibitions.