International visitors to Vietnam reached over 681,000 in February, an increase of 8.2 per cent against January and 50 per cent compared to February 2011, reported the Vietnam General Department of Tourism.
Visitors arriving by air numbered more than 592,000, an increase of 31 per cent against the same period in 2011, and tourists coming via land routes showed an increase of 17 per cent.
In all, international tourists coming to Vietnam in the first two months of 2012 reached over 1.3 million, an increase of 25 per cent against the same period in 2011.
Ho Chi Minh City alone welcomed 335,000 visitors in February, an increase of 8 per cent and in the last two months the figure was 645,000, an increase of 4 per cent compared to the same period in 2011.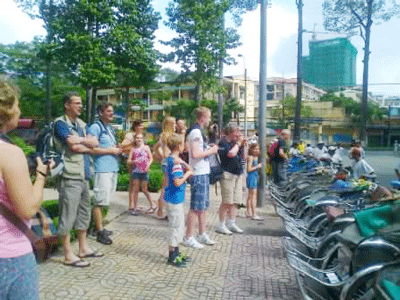 Foreign tourists on sight seeing tour in district 5 of HCMC (Photo: SGGP)
HCMC has set a target to welcome nearly 4 million visitors this year, up from 3.5 million last year, with a year-on-year growth of 8 per cent, according to a plan unveiled recently by the City Department of Culture, Sports and Tourism.
In 2011, the number of international visitors to the city reached 3,500,000, an increase of 12.9 per cent over 2010.
Total revenue of the city tourism industry last year reached more than VND49 trillion ($2.3 billion), 19.5 per cent higher than the previous year, meeting the set target.
The tourism industry now wants to focus on all potential markets.
In addition, it will also use the local media to publicise information about tourist destinations in the city.
To improve services and attract more tourists, industry officials will participate in tourism activities held by international tourism organisations, especially the Tourism Promotion Organisation for Asia-Pacific Cities.
According to plans, the city will also disseminate information about tourism laws to the departments and people's committees in 24 districts.
It plans to offer training for tourism staff, focused on professional skills and knowledge.