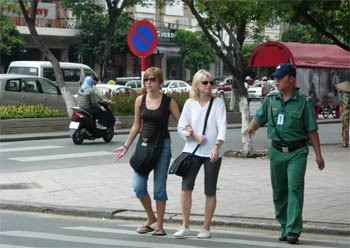 Visitors on a street of Ho Chi Minh City(Photo: KK)
Viet Nam clocked up more than 2.68 million international arrivals in the first three quarters of 2006, a year-on-year rise of 4.6 percent, according to the Ministry of Tourism.
Mr. Hoang Tuan Anh, vice chairman of the Vietnam National Administration of Tourism, is predicting a final number of 3.6 million for the year.
The figure for the first nine months would have been much higher without the restrictions China placed on its citizens wanting to travel to Viet Nam without their passports. Their numbers dropped by 250,000 for the period, or nearly 26%.