Budget carrier Viva Macau Airlines announced Feb. 26 the removal of fuel surcharges for flights to Ho Chi Minh City and Jakarta in Indonesia.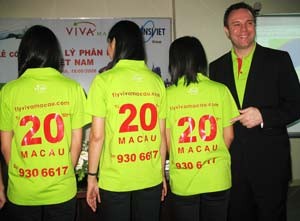 This filed photo, taken on June 16, 1008 in Ho Chi Minh City, shows Viva Macau Airlines CEO Con Korfiatis (R) introduces a fare of US$20 to fly from the city to Macau (Photo: Tuong Thuy)
The airline said its fuel surcharges were removed from Ho Chi Minh City-Macau and Jakarta-Macau direct flights, starting on Feb. 26.
It also announced fuel surcharge reductions for its services to Sydney and Tokyo.
In the statement, issued in Macau, Viva Macau CEO Con Korfiatis said, "The recent reductions in world oil prices have allowed us to reduce our fuel surcharges and pass these savings on to our customers."
On the same day, the low-cost carrier launched a promotion for its Ho Chi Minh City and Jakarta services. From Feb. 26 to Mar. 9, special fares for traveling between Ho Chi Minh City and Macau start from US$33 while between Jakarta and Macau fares start from US$43, one-way on Economy Class. For an additional US$100, an upgrade to Premium Class which offers business class seating and complementary meals is also available.
The promotional fares are valid for traveling between Mar. 3 and July 31 this year, subject to seat availability.