Ho Chi Minh City-based Sapaco Tourist Company increased bus tours between the city and Cambodia on December 4, the day the Vietnam-Cambodia visa exemption for ordinary passport holders takes effect.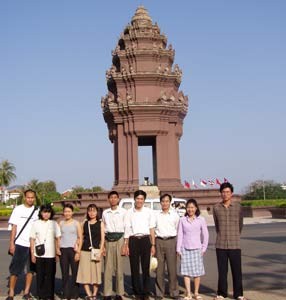 Tourists pose for picture in front of the Independence Monument in Phnom Penh (Photo: Khanh Van)
At its station in HCM City, the company operates daily seven buses to Phnom Penh instead of five previously, departing at 6 am, 7am, 8am, 9am, 10am, 11:30am and 1pm.
At its station in Phnom Penh, the seven buses leave for HCM City at 6 am, 7am, 8am, 9am, 11:30am, 1pm and 2 pm.
In addition, Sapaco buses between HCM City and Cambodia's Siem Reap, home to Angkor, now run daily instead of every two days.
Before December 4, Vietnamese holders of ordinary passports had to pay US$20 for Cambodia entry visa.
On November 4, the government of Vietnam and Cambodia signed an agreement on visa exemption. Under the agreement, which takes effect on December 4, citizens of both countries with ordinary passports valid for at least six months can stay up to 14 days in the other country without a visa.
Given this visa exemption, Vietnamese tour operators and tourism companies expect that more Vietnamese and Cambodian tourists will visit the other country.