Pacific Airlines has just signed contracts for accommodation with five hotels of Saigontourist Travel Service Company's Que Huong Hotels Group. Under the contracts, Pacific Airlines will have 325 more three-star hotel rooms at their disposal in Ho Chi Minh City for customers buying its "A+H" products (Air Ticket+Hotel).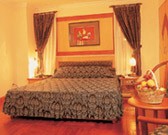 Que Huong Hotel's room
With its line of "A+" products, Pacific Airlines is working with its partners to create and promote a packaged product, appealing in both content and prices. 
"A+H" products incorporate a return ticket, two-night stay at three-star hotels and breakfast at no extra cost to customers.  
Up to now, Pacific Airlines has developed the "A+H" products with the participation of 37 hotels nationwide. 
According to this business model, Pacific Airlines has selected a network of domestic and international flight routes within the ASEAN countries, including several flights to Northeast Asia (Japan, Korea, China, Hong Kong, Macao, Taiwan) and South Asia (India).