The Tourism Department of Ho Chi Minh City has certified 50 of the city's shops, dining establishments and merchants as being of "Tourism Standard".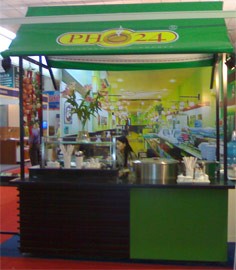 Pho 24 (Photo:KK)
They include the restaurants Amigo, Pho 24 and Binh Quoi Tourist Villages 1 & 2 and Asia Silk Corporation, B.A Ltd., Maximart on Ba Thang Hai Street, CAO Fine Jewellery, and the home appliance stores Gia Thanh and Loc Le. All are given the Crane Logo, which guarantees the best services for tourists.
In the department's view, the prices and product quality at these retail outlets pass muster and are "safe for shopping".
The restaurants are clean, their food is safe to eat, and their employees are courteous, friendly and professional and try to cater to their customers' every whim.
Furthermore, they offer international payment services, and parking nearby is not a problem.