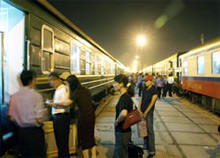 In Hoa Hung Train Station, Ho Chi Minh City.

According to Viet Nam Railways, there will be more trains on Ha Noi – Hue, Ha Noi – Da Nang and Da Nang – Ho Chi Minh City routes on the occasion of the Reunification Day (April 30) and International Labor Day (May 1).

The southern short-distance tourist trains, Ho Chi Minh City – Nha Trang routes in the day, apart from daily SN2 tourist train, there will be two more trains : SN4 (at 20.15) and SN6 (at 17.40), at the departure station of Sai Gon.
On April 29, Sai Gon-Phan Thiet tourist train which starts at 7.00 and arrives at 11.39, will depart every day. It will pick up and drop off passengers at Bien Hoa and Long Khanh.
Tickets are at a discount of 20 percent from April 29 to June 30, 2006. There are two types of ticket for the Ho Chi Minh City-Phan Thiet trip, VND 40,000/hard seat and 48,000/soft seat per one way ticket.
At the present, about 500 people have booked their tickets for the first tourist train (Ho Chi Minh City-Phan Thiet route). Passengers can book tickets through phone number 08.9142833.