The Mai Linh Corporation has begun servicing a new bus route running from Ho Chi Minh City to Siem Reap via Phnom Penh.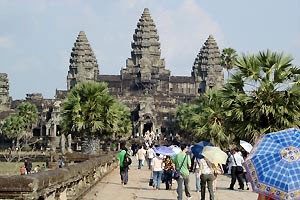 Angkor Watt
Using the Mercedes Sprinter, the 30-seat Huyndai County and the 45-seat Aero Space, buses depart HCMC at 7 a.m, arrive in Phnom Penh at 1.30 p.m and after a short stop, continue on to Siem Riep.
The fare is US$18 for a single ticket and includes a meal and a soft drink. A special introductory fare of US$15 will be offered from now until April 18.
Tickets are available at 157 Dao Duy Anh St, Phu Nhuan District; 176, Nguyen Van Troi St, Phu Nhuan District; and 64 and 68 Hai Ba Trung St, District 1 in Ho Chi Minh City