Sea Festival 2007 will be held in the coastal city of Nha Trang from June 9 to 15. The festival will have numerous displays of cultural expressions such as paintings, pottery, calligraphy, stamps, photos, and ornamental fish designed around the theme of the sea.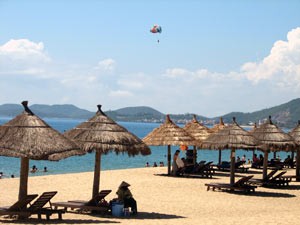 The coastal city of Nha Trang (Photo: TC)
The exhibition will feature over 600 stalls of the trademark outputs of enterprises nationwide. There will also be the award winning longest oven, biggest fermented chessboard, and longest pork roll on display.
The festival will include music, dancing, and fashion shows with performances by artists from the Ho Chi Minh City Opera Theater, the Hai Dang Song and Dance Troupe, the Traditional Art Theater and more.

There will be sports competitions and a wide array of foods from all over the country available. Additionally, Miss Viet Nam and Khanh Hoa will be present at events throughout the festival.
This is the third time the Sea Festival has taken place. It has been held once every two years in Nha Trang starting in 2003.
Before the festival kicks off Nha Trang will be busy with many interesting activities leading up to it. They are hosting a photography contest entitled "The beauty of aloe wood homes" and a national beach-volleyball competition.

In May there will be a sculpture exhibit entitled, "Nha Trang-rendezvous" with the participation of 20 sculptors. Also in June there will be a painting contest for children, champagne and tea festival, and a week long film festival in Nha Trang.