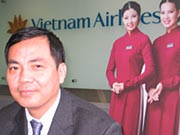 Mr Do Duong Quy -Gerneral Manager of the Frankfurt Branch Office
Viet Nam Airlines just released its latest schedule in Frankfurt (Germany) offering more direct flights to Ho Chi Minh City. As from June 21, 2006 there will be an additional flight on Thursdays with a brand new Boeing 777. While flying nonstop from Frankfurt to Ha Noi on Tuesdays and Fridays, the airline now offers flights on Thursdays and Sundays to HCMC which will increase the capacity to 1,236 passenger seats per week. Now Vietnam's National Airline is offering fastest connection between Germany and Vietnam.
There are 16 destinations in Vietnam which can be reached by connecting flights.
But there is also the possibility to continue to neighboring
countries Laos and Cambodia, as well as to Australia or other destinations in the region.
A ticket from Germany to Vietnam can be booked from 570 Euro plus tax.
"The additional flight per week is a reaction to the increasing number of passengers we have noticed
traveling from Europe especially Germany to Vietnam", General Manager of the Frankfurt Branch Office, Mr. Do Duong Quy said. "In 2005 we have carried six million passengers on our world wide network. That is an increase of 20 percent against 2004. We expect another growth rate for the years to come. In 2010 we hope to serve eight to nine million passengers. To do this we have to top up our fleet from now 38 to 70 aircraft."
Flight time between Frankfurt and Ha Noi is 10:55 hours; to HCMC it takes 11:25 hours.