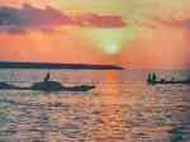 Ca Mau Cape
According to the Trade and Tourism Departments of Ca Mau Province, more than 353,500 tourists visited the province in the first quarter of 2006, fetching a total revenue of VND 73 billion.
Among them, there were 9,384 turns of international tourists, accounting for 95.5 percent of the annual plan.
This is the record number of tourists to Ca Mau. Some tourist areas such as Hon Da Bac (Silver Stone), Ca Mau Cape, Khai Long Beach and Fish-Breeding and Forestry Farm 184 attracted a lot of tourists.
In 2006, Ca Mau authorities call for more investment in 15 tourist projects with the total capital of VND 50 billion; intensify their tourism promotion, especially in ecological tourist, and cooperate with other cities and provinces to create more tours to the province and increase the attractiveness of Ca Mau tourism.