Acting responsibly for sustainable tourism development is an important target and solution for the tourism sector in economics, society and environment, Nguyễn Văn Tuấn, head of Việt Nam National Administration of Tourism (VNAT) under Ministry of Culture, Sports and Tourism told a conference in Hà Nội yesterday.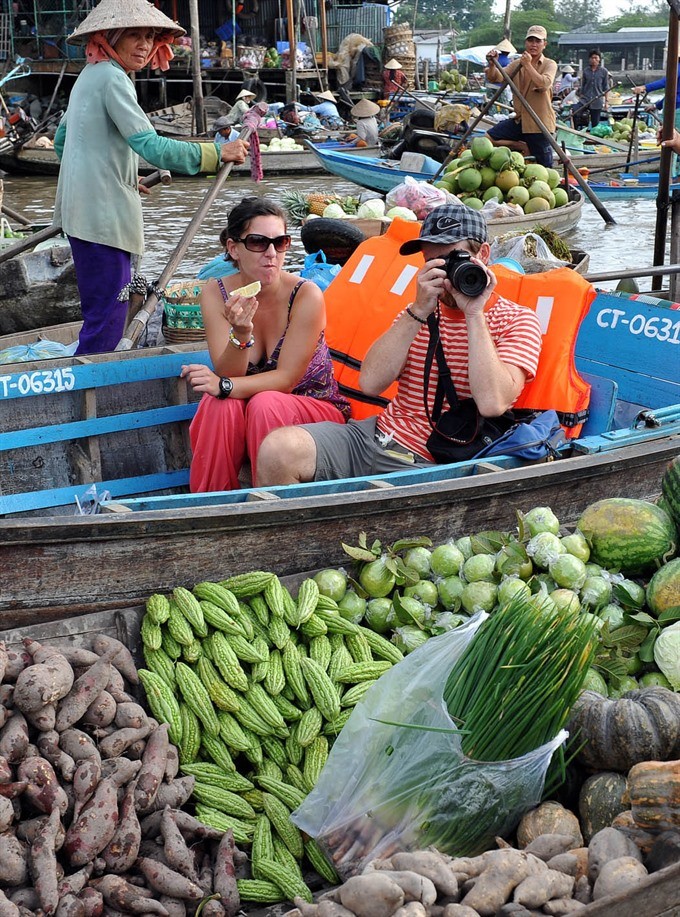 Foreign tourists visit Phong Điền floating market, a unique feature in local life, of Cửu Long (Mekong) Delta province of Cần Thơ. (Photo: VNA/VNS)
"Developing tourism means creating jobs for society and reducing poverty in tourism spots. Responsible and sustainable tourism has been considered a basic development orientation of the Vietnamese tourism sector over past years," he said.
The conference, themed "Accomplishing Responsible Tourism for Sustainable Growth in Việt Nam" was held to report the results of the Environmentally and Socially Responsible Tourism Capacity Development Programme (ESRT) after six-years of implementation and to discuss how to sustainably build on the programme's achievements.
ESRT is the largest tourism technical support programme in Việt Nam. It is funded by the European Union (EU), aiming to mainstream responsible tourism principles into Việt Nam's tourism sector.
Tuấn lauded the efforts of the EU in the ESRT project with key results including changes in awareness and actions of organisations and individuals.
According to Tuấn, Vietnamese tourism is approaching a period of acceleration and breakthroughs. In the first nine months of this year, Việt Nam welcomed over 7.26 million foreign tourists, an increase of 25.7 percent over the same period last year.
In this context, ESRT has formed a remarkable foundation for Việt Nam to prepare for an important "speeding up" time.
The definition of "responsible tourism" became known globally from the 2002 Cape Town Declaration of South Africa but it wasn't until 2011 that the EU brought the programme to Việt Nam.
The core principle of responsible tourism is to create a good living environment for locals, while making destinations attractive for tourists.
According to experts, this principle can lead to success if all participants involved in tourism (government, businesses, local communities and visitors) have comprehensive awareness of responsible tourism.
"The project has been successful in making responsible tourism a familiar phrase and important part of many policies of the Vietnamese tourism sector, "Vũ Quốc Trí, ESRT programme director said.
Awareness of responsible tourism has been spread across Việt Nam with close co-operation among cities, provinces and the whole of society, according to Trí.
One of the milestones of the project was setting up public private dialogue through the establishment of Việt Nam's Tourism Advisory Board and Destination Management Orgnisation.
Việt Nam Tourism Occupational Skills Standards System has been developed and used to enhance quality of service and operational skills in the hospitality and tourism industry in Viet Nam. It covers 13 skills standards which have been applied widely in tourism businesses and training institutions throughout the country.
Mary McKeon, ESRT team leader recommended that responsible tourism should be used as guiding principles for environmental responsibility. Tourism policies should be aligned with National Programme on climate change and integrated with tourism business activities.
Ambassador Bruno Angelet, Head of the European Union Delegation to Việt Nam said "We have supported Việt Nam's tourism industry for 10 consecutive years and as a result, we hope the resources invested in the ESRT programme would be seen as the building block for the development of responsible and sustainable tourism in Việt Nam".
In terms of maintaining responsible tourism after the project concludes, Trương Nam Thắng, ESRT programme specialist said that if "every organisation and individual recognises their responsibilities, commits and practices responsibly within their abilities," Vietnamese tourism would grow sustainably.
The ESRT Programme was funded with 12.1 million euros (US$13.4 million), to be implemented under the auspices of the Ministry of Culture, Sports and Tourism and VNAT from 2011 and will come to an end in November 2016.