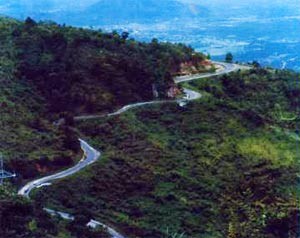 A part of a provincial route to the tourist city of Da Lat . (Photo: T.K)
The construction of the provincial route No 723 will be sped up to promptly connect two tourist cities of Nha Trang and Da Lat, said the local authorities in a meeting on August 2.
Authorities of Khanh Hoa and Lam Dong provinces joined a meeting on August 2 in Da Lat to discuss on strengthening tourism cooperation and boosting the construction of the provincial route No 723, which links the Central Highlands city of Da Lat directly to the coastal city of Nha Trang.
The 138 kilometer-long route will help shorten the distance between the two cities by 80 kilometers, compared with the current National Routes No 1 and 27.
The route is expected to technically open to traffic in October and be inaugurated in December.
The provincial route No 723 is believed to be a strategic route in the general campaign for developing tourism in the Southern Central and Central Highlands regions, said a local official.
A modern trading center will be constructed on the route to serve tourists with local products and specialties, acting as a stop site for travellers between Da Lat and Nha Trang cities.
Moreover, regarding further cooperation in tourism, the two sides at the meeting agreed to establish a triangle tourist route, linking the provincial route No 723 to tourism beach city of Phan Thiet in Binh Thuan province.