Sapa is a famous tourist destination in the Northern Province of Lao Cai during the winter months when tourists flock to see the snow but summer months too offer interesting sites in this stunningly beautiful region.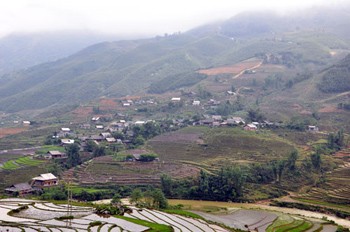 Ta Van Valley
The weather in Sapa during summer is very pleasant. The town is bathed in sunlight all throughout the summer months with occasional but very brief showers. Summer is the season for peaches, pears and plums. Tourists can visit lush fruit gardens on the hills.
Breathtaking waterfalls dot the landscape, like the spectacular Bac waterfall located about 12km from Sapa town. Water gushes down from a high mountain creek resembling a spray of white shimmering flowers.
Warm, pleasant weather in the summer months makes it conducive to trek often inaccessible villages of the ethnic minority groups like the H'Mong, Dao and Tay and get a glimpse of their vibrantly rich, unique, indigenous and very traditional customs and culture.
The exquisite Ta Van valley offers tourists a glimpse of the lives of Giay people, untouched by modern civilization. Homes of the Giay people permeate a faint aroma of 'pomu' wood.
Giay people normally choose to camp their settlements in valleys near large rivers, unlike the Dao and H'Mong who usually choose high mountainous areas. Giay's are famous for their handicrafts like knitting, bamboo furniture and anise essential oil.