According to local travel agencies, domestic air travel during the coming month-end holidays is expected to see a sharp drop in the number of travellers, with travel companies set to lose hundreds of millions of Vietnamese dong.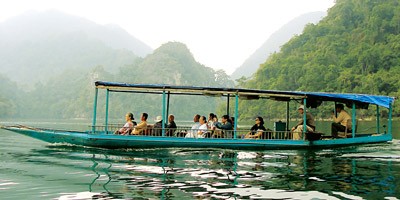 Visitors at Ba Be Lake in Bac Can Province. (Photo: SGGP)
So far, the numbers of travellers booking air trips only account for one third of the number of available tickets.
This is the first time travel companies in Ho Chi Minh City are experiencing such a gloomy holiday phase. Looking at earlier forecasts, travel companies did not imagine that they would go through such a slump in the first quarter of this year, especially when the situation was rather optimistic with high growth earlier.
Travel companies are now struggling to find ways to deal with a large number of unsold air tickets, which in previous years was a rare occurrence.
Currently, most travellers prefer short-distance tours to the highland provinces, Phan Thiet and Nha Trang by bus, and are less inclined towards tours by air from Ho Chi Minh City to other domestic destinations. The numbers of travellers have dropped by one third and in some cases one quarter.

One travel company said that it had booked flight tickets three months ago on the expectation of a crowded peak travel season. However, it only sold 60 air tickets for the Ho Chi Minh City to Hue and Hanoi routes, though it had reserved around 200 tickets for both routes.
Other companies were also facing a similar situation, with a huge amount of unsold tickets.
As the holidays approach close, travel companies have little or no chance to attract tourists at the last minute and might lose their deposit on pre-booked air tickets.
According to these companies, deposit for a Jetstar Airline ticket was only VND160,000 for a one way ticket and VND320,000 for a round ticket, so they will be able to handle this loss. But for Vietnam Airlines the deposit is 50 per cent of the ticket value, and if they fail to sell the tickets, they will lose their deposits.
Programme to boost tourism begins in May
Vietnam Airlines has agreed to participate in a programme to boost domestic travel, starting from May to the end of this year. Around 20 travel companies are interested in participating in the programme in Ho Chi Minh City.
Accordingly, prices of full-package tours from Ho Chi Minh City to northern, central provinces, and to Phu Quoc will be lowered by 20-30 per cent.
Tran The Dung, deputy director of Young Generation Travel Company, said the fact that Vietnam Airlines has collaborated with travel companies during the current difficult phase is a great encouragement.
Compared with the price of grade K tickets that the company had bought earlier, the promotional price of grade Q tickets was 40-50 per cent lower. Combined with service costs at destinations, the company offered a decrease of 20-30 per cent on full-package tours on various routes.
This time the flag carrier will monitor closely the promotional plan and help boost sale of tickets, to prevent companies being landed with unsold tickets. Travel companies under the programme will not have to deposit before booking tickets.
In order to get approval to buy low-cost air tickets, travel companies will be required to send their price list to VNA, which will then re-check whether companies have actually lowered their prices.
In previous years, many travel companies had taken advantage of the promotional programme to boost the number of travellers, two or three times more than actual numbers. As the travel industry began to face difficulties, domestic tours lost their competitiveness. However, this new stimulus programme is expected to be a life saver for the local tourism industry.