The city of Hue in central Viet Nam will open the peak tourist season with a program of culture, sport and such called "Bach Ma Impression 2007" during the Reunification Day holiday.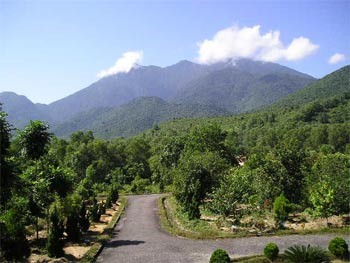 Bach Ma national park in Thua Thien - Hue Province.
Among the activities will be Mot thoang cho xua (images of market days long ago), Tim tinh yeu huyen thoai (looking for legendary love), Chinh phuc tham quan Hai Vong Dai (conquering Hai Vong Tower) and Hon nui (spirit of the mountain) along with camping, a food fair, sporting events and folk games, said Mr. Nguyen Quoc Thanh, deputy director of tourism in Thua Thien-Hue Province.
The event's organizers are Mr. Thanh's department and Bach Ma National Park 40 kilometers to the south of Hue.
Because of its high altitude, the summit of Bach Ma Mountain is always seven degrees or so cooler than the surrounding lowlands. The mountain is the wettest place in Vietnam and gets around 8,000 mm of rain annually, mainly between September and December.
The park's 2,147 known plant species represent around one-fifth of the entire flora of the country.
Almost as varied is the fauna, among which are some very rare creatures indeed. Quite a few are endemic to the park too.
So far scientists have identified 1,493 animal species in Bach Ma, among them the rare Saola (Pseudoryx nghetinhensis), Edward's pheasant (Lophura edwardsi) and red-shanked Douc langur (Pygathrix nemaeus nemaeus).