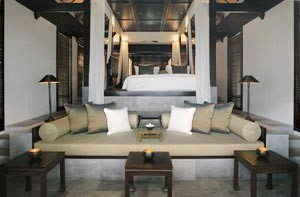 An indoor view at The Nam Hai
The Nam Hai resort in the central province of Quang Nam is celebrating its two-year anniversary by offering a promotion.
Until 31 March, a one-bedroom villa at the luxurious beach resort is charged at US$260 on the first night of a weeknight stay and US$160 on the second night. With a two-night stay, the deal includes breakfast and two-way airport transfer. Weekend rates are only slightly higher – US$320 and US$180, respectively.
The rack rate at The Nam Hai starts at US$750 for the same one-bedroom villa now offered to locals at almost a third of the price.
The Nam Hai opened its 100 villas, gourmet restaurants and spa in December 2006. The resort's villas were modeled on the traditional residential homes of Vietnam, known as nha ruong, but they have been re-interpreted to accommodate modern technologies and amenities.
Most of the resort's 60 one-bedroom villas and 40 pool villas border the sea around a horseshoe-shaped spit of sand. In addition to a private stretch of Ha My Beach, there are three pools available to guests.
Other facilities include a badminton court, four tennis courts, a basketball court and a fitness center.