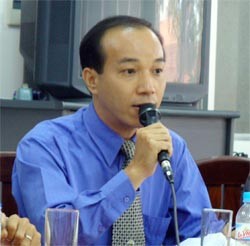 Tu Quy Thanh, Managing Director of Lien Bang Travelink
The leading role of the Viet Nam National Association of Tourism in general and the Ho Chi Minh City Association of Tourism in particular are really important in the common campaign for finding directions and developing the industry.
The city 's Association of Tourism can organize more periodic festivals or events to attract foreign visitors such as exhibitions on our traditional dress Ao Dai or water-puppetry shows, a very typical cultural activity which are taking place monotonously and for a short time in some areas in the city.
VN Airlines also have to support with the local tourism agencies to offer the familiarization trips (Fam Trips) to foreign news agencies so that they can have a look at the country's tourism industry and then introduce to their readers in their homelands.
I suggest that the tourism department can issue a registered logo on every product that are specialties to guarantee their quality, prices as well as the prestige of the standard tourism points recently acknowledged.
While there is a shortage of foreign languages speaking guides, more incentives such as opening effective training courses or extending the work permits of tourist guides and interpreters who can speak many foreign languages should be promoted by the city relevant authorities.
About our tourism services, cyclos surely is a unique tourism product. Tourists are always surprised when traveling around the city by cyclos when they can enjoy fresh air, lovely and peaceful sightseeing and understand local lives. The cyclos tour is also cheaper than traveling by other transportation and memorable feelings. However, to date the city lacks of effective promotion program to boost the image of the cyclos in tourism products.
Ho Chi Minh City has until now focused largely on the in-bound tourism sector with no real distinction of the MICE (meeting, incentive, conference and exhibitions) market, and there are not enough MICE organizers locally. But industry insiders tip the country of Viet Nam will become a new destination for MICE travel. And for good reason; Viet Nam is fresh, safe and untouched.
Related links: