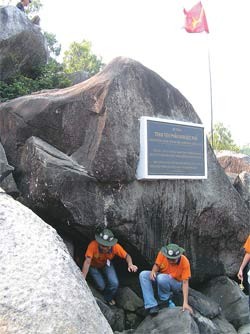 Dr. Dang Thuy Tram used to work in deep caves.
Dang Thuy Tram is a revolutionary matyr, whose diary was the best-seller of 2005, drawing much public interest.

A tour back to her previous working places will be operated by the People's Committees of Duc Pho and Ba To Districts in conjunction with the Quang Ngai Travel Agency and Saigontourist Travel Service Company.

Tourists will find out that working places of Dang Thuy Tram are in fact small and in deep caves surrounded by trees.

Visitors will be able to talk to former patients of the clinic like Nguyen Van Thong, Ta Thi Ninh, learning interesting stories about Dang Thuy Tram, considered a typical example for Vietnamese youth.

In addition, the tour will offer visitors a lot of chances to enjoy beautiful places in central Vietnam's province of Quang Ngai, including Sa Huynh Beach, Ma Vuong Hills, Liet Son Lake, Trang Waterfall, etc.

The first trip to this place was held on March 5, 2006.