Forty-seven Foreign Direct Investment (FDI) projects with total registered capital of over US$1.86 billion have been poured into the tourism-hospitality sector in Viet Nam this year, up 19.57% over last year.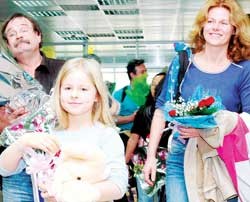 A foreign family arrives at Ho Chi Minh City's Tan Son Nhat International Airport
Foreign investors have invested heavily in golf courses, luxurious resorts and hotels in recent years, especially in Ha Noi, Ho Chi Minh City and coastal localities in the central region.
By this year, Ha Noi alone is estimated to have 5 hotel projects envisaging 2,200 rooms with total investment capital of over $1.24 billion.
Other notable projects include a $200 million resort in central Da Nang City by the US-based KOK Corporation and a $68 million convalescence center on Phu Quoc Island.
Singapore's Banyan Tree Corporation is currently awaiting licensing for a mega US$1 billion eco-tourism site in the Chan May-Lang Co Economic Zone in central Thua Thien-Hue province.
Meanwhile, local government in Thua Thien Hue has recently agreed to permit the Cattigara Group to build a $102 million resort on a 100ha site in Phu Loc District, expected to be completed in three years.
In related news, Green Lotus Limited Company from Singapore has just broken ground on a $20 million project to build the Van Son Entertainment Complex in northern Hai Phong City's Do Son District.
Since the law on foreign investment came into effect in 1988, the Southeast Asian country has had 235 FDI tourism projects registered at over $6.1 billion.
International arrivals in Viet Nam have been steadily growing. Around 4.3 million foreign tourists are forecast to visit the country this year, or 700,000 more than 2006, according to the Viet Nam National Administration of Tourism (VNAT).
With this rise, the tourism industry expects earnings to increase to $3.5 billion from last year's $2.85 billion.
Viet Nam is aiming to attract six million foreign visitors a year by 2010 and earn $4.5 billion from the tourism sector, said VNAT vice chairman Nguyen Manh Cuong.